GITEX Future Stars has created buzz in the full startup ecosystem
How has GITEX Future Stars influenced the whole ecosystem - from startups to incubators to accelerators and investors - and joined the big league table?
Hear it straight from the stakeholders taking part at this year's edition.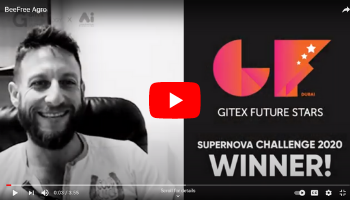 Noam Azran, CEO at BeeFree Agro, winner of the Supernova Challenge at GITEX Future Stars 2020, talks to us about his experience with the show and what they look forward to at the 2021 edition!
"The GITEX roadshow in Europe was a tremendous experience where we were able to find and meet with a lot of startups that definitely fulfills some of the pain points that we are tackling here in the Middle east."
Rafi Dikranian, Marketing & Operations Manager, Greenhouse
"Innovators, startups, entrepreneurs have been always playing a significant role in driving the future vision of Dubai."

Natalia Sycheva, Manager - Entrepreneurship, Dubai Chamber of Commerce
"We are counting on GITEX Future Stars to help us find the next big thing for Expo 2020 Dubai."
Yousuf Caires, Senior Vice President, Expo 2020 Dubai
"GITEX Future Stars is the leading startup ecosystem in this part of the world."
Cinar Kurra, CEO, Catalyst - A Masdar - BP Initiative
"GITEX Future Stars is a global platform for attracting world-class startups, innovators and investors."
Anas Zeineddine, Executive Director, Krypto Labs
"GITEX Future Stars helped us leap forward a few years"
Yousuf Lootah, Executive Director - Development & Investments, DTCM
"GITEX Future Stars, a meeting place for startups, investors and an entrepreneurial ecosystem as a whole."
William Chappell, Chief Financial Officer, DTEC
"GITEX Future Stars is one of the most thriving and exciting marketplace for young entrepreneurs and startups to be connected to the world today."
Gianpaolo Bruno, Trade Commissioner to the UAE, Oman and Pakistan, Italian Trade Agency
"GITEX Future Stars is the ultimate platform for the tech startup ecosystem in the MENA region."
Miriam Kiwan, Head of Entrepreneurship & Innovation, Abu Dhabi Global Market