20 Aug 2019
ADS FLIGHT REVOLUTIONIZES ADS IN INTERNATIONAL AIRPORTS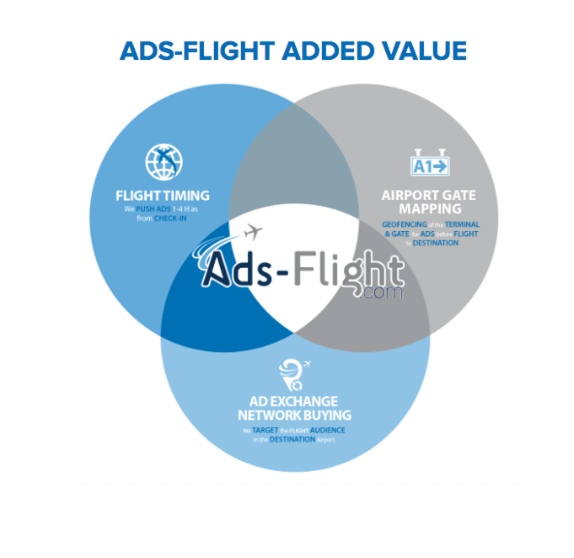 ADS FLIGHT REVOLUTIONIZES ADS IN INTERNATIONAL AIRPORTS BY TARGETING AIRPORT PASSENGERS AT THE PERFECT TIME AND GATE
A new technology that enables precise location-based mobile advertising on all apps of any smartphone. Ads-Flight offers advertisers the opportunity to reach a specific audience, while using this fast growing advertising platform.
We live in a world where we are always running and focusing on our mobile.
Where else would you advertise your brand, if not on mobile and in an airport where travelers have enough time to sit and browse.
How would you target only Emiratis traveling to Paris? Americans going to Lisbon? Brazilians heading to New York City?
Ads Flight will allow you to target specific flights travellers at airport check-in and retarget these passengers at their destination during all their stay. It is about the perfect timing at the targeted location with relevant data.
Showcasing your brand to a massive audience can not be a successful operation if you are addressing the wrong audience. We will ensure that you reach and identify your targeted audience effectively.
Ads Flight is a communication solution based on the Adexchanges which will help advertisers increase brand awareness worldwide with a decent budget. We support brands with banishing the approximate and aiming for the accurate.
Advertise on smartphone At the good gate
In international airports
"In airport advertising, 'Timing' and 'Gating' are the key factors leading to a successful campaign and this is the reason why we provide our clients with an accurate solution, banishing the traditional airport media to adopt one that allows key actors to target their audience using a data-oriented and intelligent way"​, says Eric Corniquet, the Founder of Ads Flight.
In 2016 the number of Airport Passengers was 7,7 Billion. This number is increasing by 5.2% yearly and will surely reach 14 Billion Passengers by 2031. Therefore there is full potential for advertising in Airports with high precision to target the right audience. Ads Flight is not about "spending money", it's about a wise investment on the long-run to increase brand awareness leading to high performance.
Ads Flight is now available in Top 100 Airports Worldwide.
Our services:
1/ Identify and target your audience on mobile phone at the good gate
2/ Follow and repeat them at destination during all their stay 3/ Reactivate your audience back in their country
Want to know more? Write us : info@ads-flight.com