13 Sep 2019
Deep Algorithm "Trac" β to launch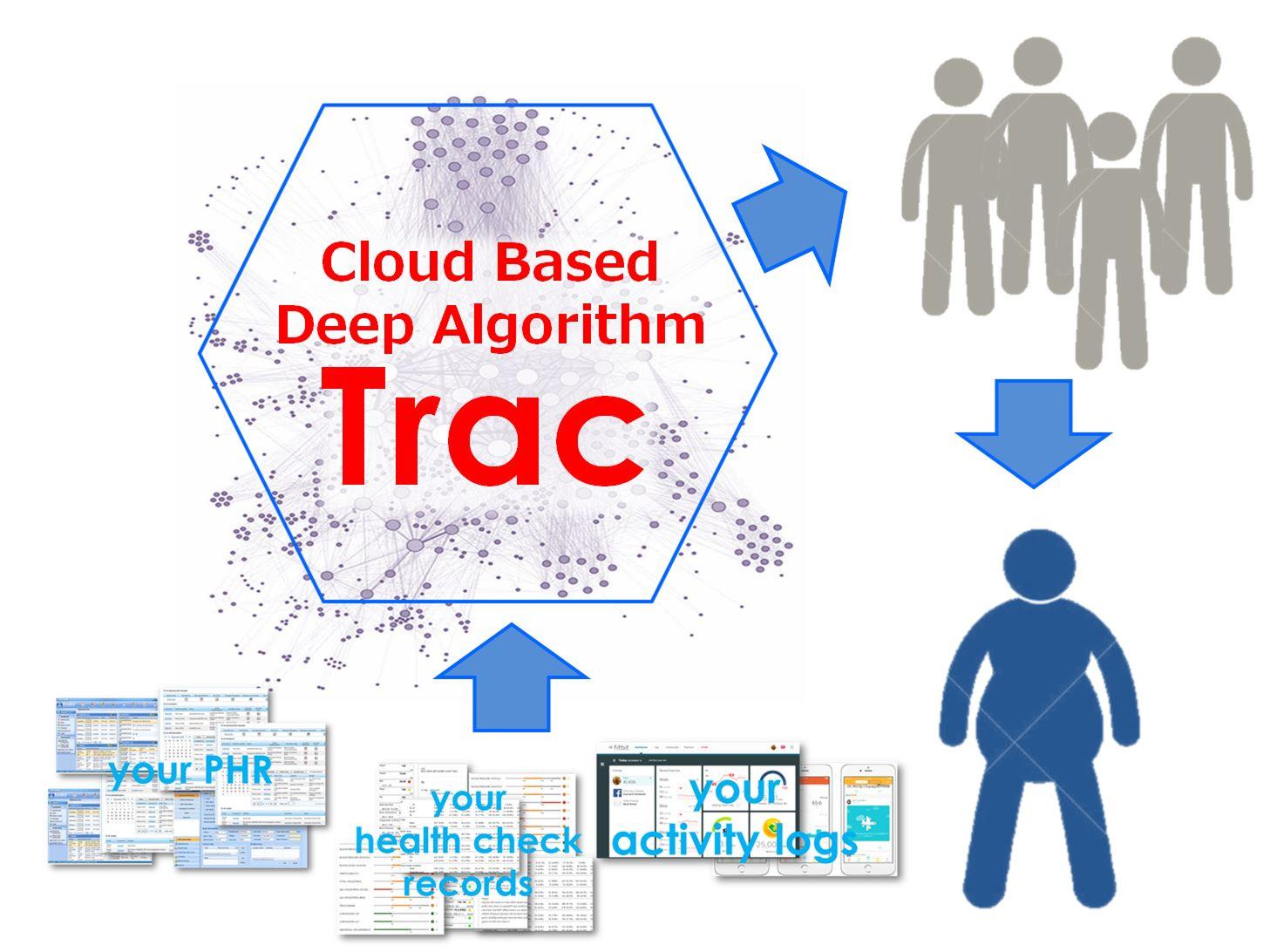 Under the aging trend, maintaining better QoL is essential for everyone. Even continuous evolution of medicine, maintain healthy life is no easy now. Trac is a kind of AI solution for designing and managing health daily life for all, but not like common AI, Trac does not depend on big data because of its original algorithm.
What is Trac?
Trac is a scientific simulation engine for humans' health. With utilizing health related information such like PHR, health check DB, research papers and web articles, it generates and manage "health persona", which simulates human's health-state. Trac is based on its original dynamic original modeling method, "deep-algorithm", so that it doesn't need big data. When you start using Trac, a few steps of queries give "your health persona" inside Trac environment. You also can manage your health with very simple smartphone application.
Trac, what is that good for?
Since Trac is designed to maintain good QoL, it targets to prevent life-style diseases. In globally, diabetes is one of the common and serious one so that Trac is focusing on obesity which is one of the major causes of diabetes and is started from overweight. Intelligent daily-life supports by Trac will help you to avoid overweighting and getting obesity, and then prevent diabetes. Other serious diseases, such like stroke and heart attack caused by obesity will be covered by 2020.
Where is Trac available?
There are two kinds of Trac solutions; Trac Pro for medical health experts, and Trac You for individuals. By 2020 Trac You is available as a subset of Trac Pro.
Trac Pro:
A SaaS based enterprise solution for medical fitness experts such like hospitals, health insurance companies, healthcare associations and fitness club operators. Trac Pro accounts will be activated with customization by requirements, and Trac You accounts will be issued to their customers. Trac Pro also accepts their original data by request bases.
Trac You:
A SaaS based web application optimized for smartphone use. It is available as a subset of Trac Pro so that Trac Pro user distributes accounts to their end customers as a smartphone application. It is always connected to Trac Pro for intelligent real-time feedbacks. Not like similar applications, just click based operations are good enough for good results.

More in detail
Please visit www.primesap.com/deepTrac.htm