05 Sep 2019
Empowering Startups of MENA & South Asia digitally with software development services.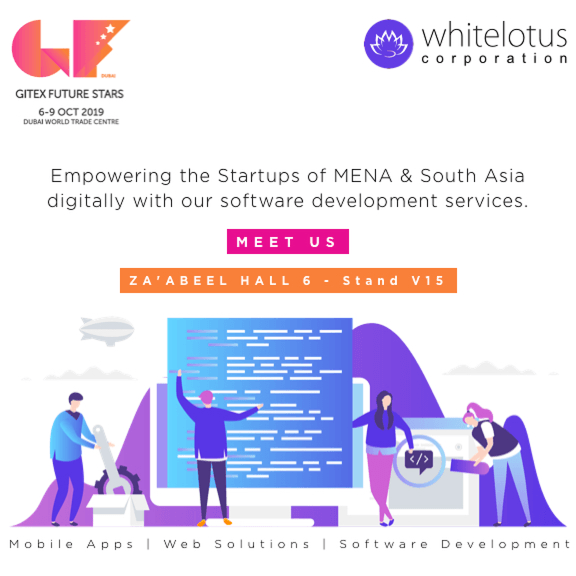 Whitelotus Corporation, from India is at GITEX Future Stars 2019 to showcase creative digital solutions in web and mobile apps development for Internet of things, Blockchain, AR/VR, iBeacon, Enterprise Mobility, eCommerce which can empower startups and big enterprises digitally.
Enhancing business with digital transformation is what everyone looks upon to cope up with the increasing latest technologies and trends. Mobility with Simplicity is the motto of today's world. Mobile apps have always played a significant role in making the lives and work space easier with convenience. With new technologies in the market, this world has seen a drastic change in the area of mobility.
Whitelotus Corporation is next generation creative digital software solution provider that focuses on delivery best in class mobile and web apps meeting the demands of these new generation technology implementation in the businesses or ideas through its main forte of mobile application development along with full stack web solutions.
From B2B or B2E apps for enterprises, small businesses, and startups, Whitelotus have worked on all sort of apps for segments like Smart Retail, Financial services, Logistics & Transportation, Smart homes, Healthcare, mCommerce, E-governance, Education, Lifestyle, Utility and much more with a proven track record of creating 150+ result driven and engaging mobile apps on all popular platforms with Native, Cross-Platform, and Web Technologies.
Glorifying the slogan 'MAKING IT EXTRAORDINARY', Whitelotus management team will be at GITEX to showcase their end to end mobile solution which are cloud based, secure and provides distinguished user experience.
Whitelotus invites Startups and visitors to come explore its potential service offerings, discuss various projects they may have, learn about our work methodologies and featured technologies.
The top priority of Whitelotus is to effectively collaborate with Global Startups, Government Sector, Enterprises and SME companies to work as development team to build remarkable web & mobile applications which resonates their disruptive ideas.
Catch our latest updates on our social media handles below:
https://twitter.com/whitelotuscorp
https://www.instagram.com/whitelotuscorp/