29 Mar 2019
Tech Tour Growth 50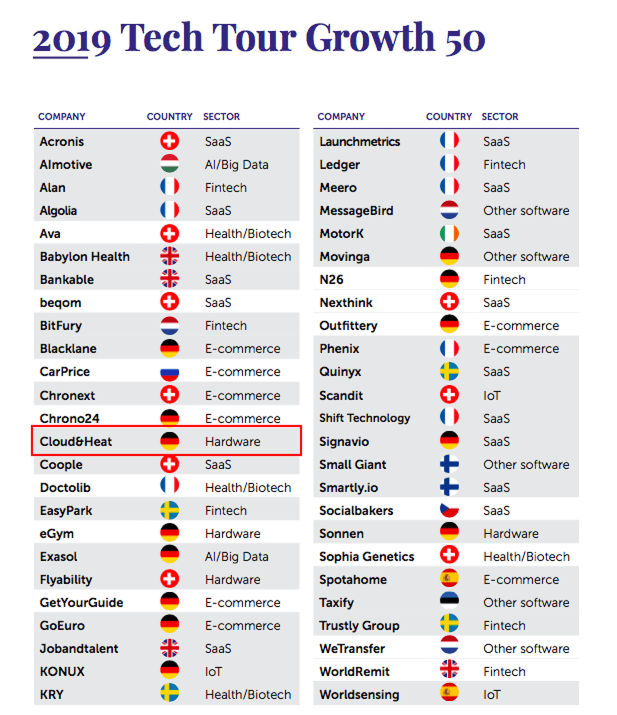 Last night at the Tech Tour Growth Summit & Awards held in Lausanne, Switzerland, the Tech Tour announced its 2019 Growth and Innovation Award winners. These were chosen from the 2019 Tech Tour Growth 50companies, a group of Europe's most promising super-scale up companies, which in turn were selected from a long list of 312 companies. ​
The selection committee, chaired by Falk Müller-Veerse, Partner, Bryan Garnier & Co, and made up of 21 international venture capital and growth equity fund managers, chose both Award winners taking into account their achievement, impact and momentum.
SOPHiA GENETICS, the Swiss-based global leader in Data-Driven Medicine, took the Growth Award, joining past Award winners including, Darktrace, Devialet, Klarna, MySql, Octo Telematics, Parallels, QlikTech, and Skyscanner. The selection committee were particularly impressed with SOPHiA GENETICS' rapid growth, winning trust from clinicians across the globe leading them to serve over 920 hospitals in 77 countries.
Commenting on the win, Dr. Jurgi Camblong, CEO and co-founder of SOPHiA GENETICSsaid "We are honored to receive the Tech Tour Growth Award, which is a direct recognition and example of the rapid growth and global impact of SOPHiA GENETICS worldwide. The company thus achieves its mission of contributing to a more sustainable global healthcare system where the data used to help a patient today will benefit those of tomorrow."
Cloud&Heat, the German company whose sustainable, scalable and secure solutions serve the cloud computing market, took the Innovation Award, joining past winners including Algomi, Calastone, Movidius, Shazam, Soundcloud, and Tobii Technology. The selection committee was highly impressed with Cloud&Heat's innovative cooling technology that both reduces data centres' carbon footprints and allows for waste heat to heat buildings and supply local heating networks.
Nicolas Röhrs, CEO Cloud&Heatsaid "We are thrilled to receive this award. It not only confirms the innovative strength of our still young Green IT company, but also the already achieved technological and economic relevance of Cloud&Heat in the data centre sector. I would especially like to thank our incredible team and our European investors, who share our vision of a green digital future."
Falk Müller-Veerse, Partner, Bryan, Garnier & Co,and Chairman of the 2019 Selection Committee, added "Europe is coming into its own with regard to the number of world class growth companies it is able to nurture, and the quality of teams in these companies is increasingly world class. As a single reference point, there were 70 unicorns in Europe in 2017 versus just 1 in 2005. The future outlook is promising. As entrepreneurship becomes increasingly mainstream, there is a growing pool of high potential start-ups from which future leaders will emerge. In 2019 our selection team, comprising a sizeable group of the most active venture capitalists in Europe, has once again carefully picked the 2 most promising European companies from the 50 that met our multi-variable criteria of scale, growth and success."