16 Feb 2019
The She Factor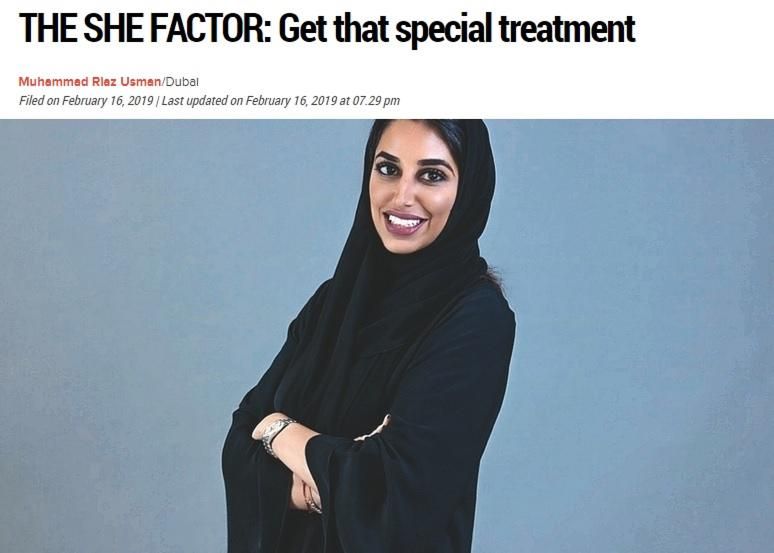 Marwa Al Mansoori 'tapped' an opportunity to make wellness 'click'
What should I do next, innovative and relentless Emirati entrepreneur Marwa Al Mansoori asked herself. After graduating from Edinburgh University, she had already ventured and excelled in various fields such as event management, tourism management and strategic communications.
Now she wanted to do something more creative, a solution with a bigger impact within the society.
While doing her market research within smart solutions she found out that healthcare spending in the UAE is expected to reach Dh101 billion by 2021, while the overall figure in the GCC could exceed Dh353 billion by 2020.
"While the food industry, transportation and hospitality, are all changing, moving towards online platforms, the process of booking and ordering are just a click away. Why not the medical and aesthetic industry?" asks Marwa, founder and chief executive officer of Malena.
Marwa came up with a smart solution, malenaapp.com, a virtual market place for the aesthetic, cosmetic and plastic surgery industry, showcasing the top plastic surgeons and most wanted services with transparent ratings and trustworthy reviews.
Marwa launched an app, called Malena, in May 2017, linking clients and medical service providers via a transparent and well-governed platform.
"I wanted people to have a trusted and certified platform that they can book within seconds, which can boost up the aesthetic industry and double the spending in the right way," Marwa explains.
Malena, available on both iOS and Android, offers an access to the world of treatment options on a single platform. Not only does this reduce search costs, but also increases the number of successful transactions between clients and service providers - thereby boosting the industry as a whole, she claims.
Over the next four years, the UAE is looking to double - and even triple - the number of medical tourists coming to the UAE for world-class healthcare and aesthetic procedures.
The Dubai Health Authority has unveiled plans to attract 500,000 medical tourists a year and boost its economy by up to Dh2.6 billion by the year 2020. The emirate aims to attract 500,000 medical tourists a year by then. This strategy calls for an increase in private and public hospitals, supported by thousands of new staff members.
"As the UAE seeks to boost its medical tourism sector, and Dubai evolves into a smart city, I created and executed an innovative app-based marketplace for the aesthetic and medical cosmetology industry," she says.
"By making the market more transparent and increasing customer choice, Malena boosts the aesthetic industry in Dubai and the UAE - and helps the nation achieve its medical tourism goals," she stresses.
Marwa says she started her business with her personal savings. "My family, precisely my mother has been of great support throughout. believing in me, my ideas and my future strategies," she points out.
"I started with bootstrapping myself from all costs to invest in Malena because I believed in it. Starting with cutting unnecessary costs and investing in the priority of launching the app with the simplest feature to share it with the public and conduct survey to understand my customers and add new features to my targeted audience," she added.
Marwa advises young entrepreneurs to believe in their dreams and never consider quitting as an option.
"Always perform a deep dive due diligence before venturing. Solve a real problem and create value in the world. Use your network and surround yourself with right people and keep learning," Marwa added.
'The right tools'
Marwa says technology is an essential part of everyday life as well as key to success for any business.
"Malena is a tech startup and innovation is at the core of our business strategy. Our social media plan consists of creating a credible reputation, attracting existing and potential clients and using the right tools to connect with a diverse market and like-minded business professional," she says.
"Malena's strategy is aimed at targeting clinics and consumers. For clinics, it is finding motivated customers, who are ready to spend and for consumers, discovering the newest, hottest beauty treatments at the best prices," Marwa concluded.
- riaz@khaleejtimes.com