02 Mar 2019
Dubai's RTA to use robots for cleaning metro stations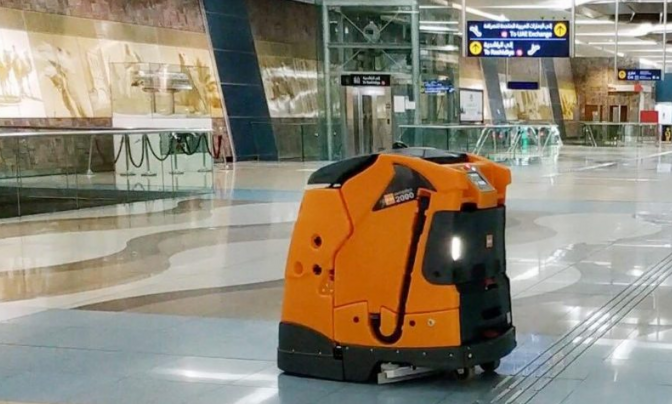 Metro stations in Dubai will now have robot cleaners.
Dubai's Roads and Transport Authority (RTA) announced that "in the context of the UAE Artificial Intelligence Strategy, we will start using robots in cleaning metro stations".
"This robot is designed with international standards, and is highly effective and efficient in reducing the amount of water used in cleaning, and providing a great level of sterilising," said Mohammed Hasan Al Amiri, director of Rail Maintenance, RTA.
"It can also be pre-set to perform automated cleaning patterns of floors, without human intervention except for limited and simple steps such as adding water and programming. The programming can be reset to enable the robot to clean floorings of complex designs."
The robot has several laser-powered sensors and sonar receiver capable of shifting between spaces, detecting barriers and accordingly avoid a collision. The sensors along with the sonar cover a 360-degree circle.
It also has a 90-litre water tank, and measures 135x90x128 cm in size, "rendering it fit for use in public areas without causing inconvenience to station visitors", he said.
"The use of robots in cleaning Dubai Metro stations is an experimental step considered the first of its kind worldwide in using such technology to clean metro stations. Once the success of the trial is verified, the technology will be deployed in other stations," Al Amiri added.
The UAE's AI strategy, launched in October 2017, will see the technology used in various future services, sectors and infrastructure projects.
In the transport sector, AI will be used to reduce accidents and traffic jams, cut operational costs and draw more effective traffic policies.
The RTA already uses AI in several services including in the automated control of the metro service frequency, machine learning in analysing big data, and emergency response system at the Enterprise Command and Control Centre (EC3).
It also uses AI in drones, smart speakers, customers' happiness meter, and the dedicated bus and taxi lanes.
The technology has also been deployed in the Al Raqeeb system to monitor the performance and fatigue of its public transport drivers, smart vehicle testing yard, smart traffic signals, smart autonomous vehicle, and the autonomous air taxi.
Speaking at the World Government Summit earlier this month, RTA director general and chairman Mattar Al Tayer Al Tayer confirmed that work was progressing on the autonomous air taxi initiative, which was launched two years ago.
The RTA teamed up with German company Volocopter – which specialises in the manufacturing of autonomous air vehicles for the project.
"We have worked a lot in cooperation with the General Authority of Civil Aviation to develop the necessary legislation to operate the vehicle in Dubai," said Al Tayer.
The RTA is also working on an integrated strategy for self-driving vehicles that aims to serve at least 25 per cent of trips in Dubai by 2030, up from 9 per cent at present.