28 Jan 2018
MAGNiTT State of MENA Funding 2017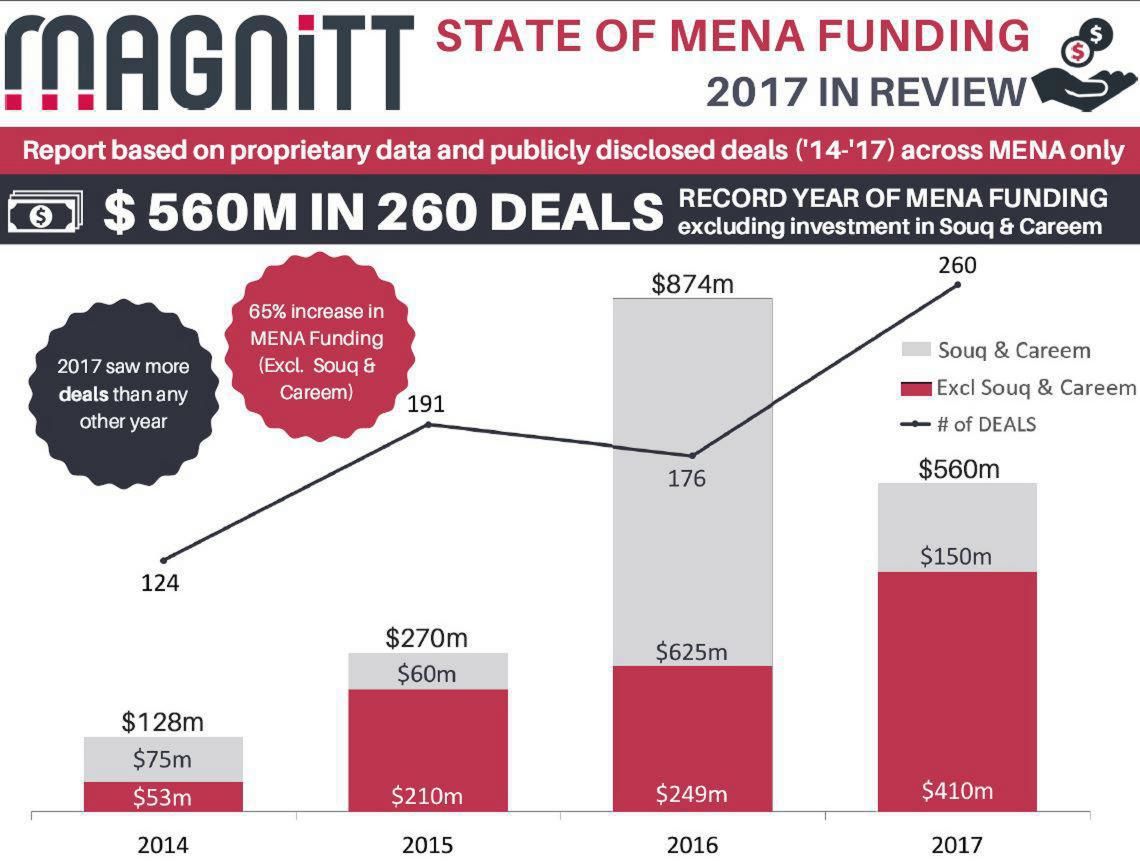 Record-breaking startup funding sets the pace for the future.
Last year was a phenomenal year for MENA startups. Buoyed by the acquisition of Souq by Amazon and the regional dominance of Careem, the global investment community stood up to take notice of the region's startups – a fact further substantiated by the latest MENA Report on the State of MENA Funding.
In a nutshell, 2017 saw more deals than any other year. A total of 260 startup investments were recorded across the region, with an annual tally of $560 million invested, not counting the fundraising drive by Souq and Careem.
A few highlights from the Report:
• Overall 65% increase in MENA funding (excluding Souq & Careem)
• The UAE continued to see the majority of activity accounting for 70% of investments, while KSA saw the largest increase in deal transactions, up 4% from 2016
• E-commerce and FinTech were the most popular industries accounting for 11.9% each
• Top 10 investments accounted for $349m, which accounted for roughly 60% of 2017 funding
• Top 5 investments included $150m in Careem, $90m in StarzPlay Arabia, $41m in Fetchr, $20m in Paytabs and $12 in Wego
MAGNiTT's founder, Philip Bahoshy, noted "It was a great year for MENA startups, founders and investors across the board. Investment continues to grow at all stages across the funding cycle." With regards to overall trends he noted that, "2017 broke the record for the number of deals and amount invested, when removing investments in Careem and Souq. This is positive news and should provide confidence across the market heading into 2018. We expect to see a continuation of this trend throughout the year."
Download the full MAGNiTT report here.
GITEX Future Stars connects you to the biggest investors on the planet, and gives you bigger access to funding, to launch and scale your startup.
Believe the hype – it's real. Book your space now