23 Jan 2019
Majid Al Futtaim and I.AM+ to introduce AI solutions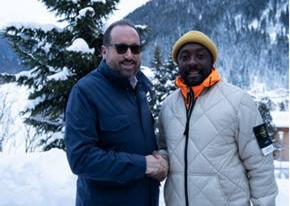 Dubai, UAE: Majid Al Futtaim, the leading shopping mall, communities, retail and leisure conglomerate across the Middle East, Africa and Asia today announced during the World Economic Forum in Davos, its partnership with Los Angeles-based technology company, I.AM+. Founded by innovator and global music artist, will.i.am, I.AM+ will offer Majid Al Futtaim its Omega platform, an AI-powered conversational and contextual voice assistant that will enable an entirely new level of experiential retail at various customer touchpoints.
Projected to be the next wave of convenience and technology in retail, the Omega platform engages consumers in conversational and contextual style interactions. The technology delivers deep cross domain knowledge for a seamless customer experience, by passing and sharing common traits across several industries and services. The solution addresses a rising gap between what consumers want from their shopping experience and the level of satisfaction with their experiences across various domains.
With a presence in 20 countries and 14 industries including; Shopping Malls, Grocery Retail, Family Entertainment Centres, Consumer Finance and Cinemas,
Majid Al Futtaim embarked on a digital transformation journey to merge physical and virtual experiences through seamless omnichannel offerings. The company aspires to be as prominent digitally as it is physically by adding a digital dimension to its businesses and enhancing its data and analytics capabilities. The partnership with I.AM+ will enable Majid Al Futtaim to deliver conversational and contextual experiences, powered by AI technology, across its diverse business.
As part of the partnership with Majid Al Futtaim, I.AM+ announced the A.R.C., a coalition of retailers, brands and service providers who will offer a neutral voice AI platform that is private by design. The coalition is intended to embrace the opportunity of voice technologies and address the challenges, collectively, to deliver a world-class AI experience for customers. Majid Al Futtaim is the first retail conglomerate to be announced as a member of this coalition.
Commenting on the partnership, Alain Bejjani, Chief Executive Officer at Majid Al Futtaim - Holding, said: "Majid Al Futtaim and I.AM+ share a common vision to enhance people's lives and everyday experiences using the latest technology. Our partnership helps us to tap into the true potential of AI, where Omega will allow us to better understand our customers and introduce the most personalised shopping experience. What you see now is merely a fraction of what is to come as we continue to pursue pathbreaking technologies that support our digital transformation agenda across the Middle East, Africa and Asia."
Working together, Majid Al Futtaim and I.AM+ will offer customers first-look access to imminent intelligent consumer devices designed for home automation and control, entertainment and communications that each incorporate the Omega platform.
"I.AM+ is honored to be collaborating with Majid Al Futtaim, a prestigious lifestyle conglomerate that is one of the most important players in consumer retail and leisure experiences," commented will.i.am, Founder & CEO of I.AM+. He added "we believe that both the Retail and Finance industries will be among the sectors that benefit most from Omega and the voice computing revolution."
Majid Al Futtaim has a proven track record of bringing game-changing unique experiences to the Middle East, Africa and Asia. This includes building the world's best indoor ski resort, partnering with Dreamscape to deliver the most immersive VR experience and joining forces with Michelin Star Chef Gary Rhodes to revolutionise the luxury cinema experience.
Majid Al Futtaim's experiences will harness the power of I.AM+'s Omega to drive brand loyalty, while building, maintaining and enriching direct customer relationships.