23 Apr 2018
PwC Report: AI to contribute $320 billion USD to Middle East GDP by 2030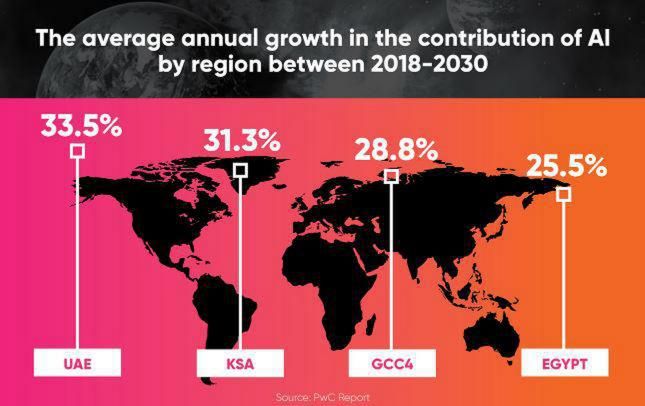 PwC Middle East reports that Artificial Intelligence (AI) will contribute US$320 billion to the Middle East economy by 2030 - the equivalent to 11% of GDP.
Drawing on PwC research to illustrate the scale of economic impacts associated with AI, the report outlines that there are greater, untapped opportunities that could increase the impact of AI on the region's economy, moreover the impact could be even larger if governments continue to push the boundaries of innovation and implementation of AI across businesses and sectors between now and 2030.
That first wave consists of largely known technological innovations that are either adoption-ready or that are currently being fine-tuned or scaled for broader implementation. Beyond 2030, the scope of AI impacts on both the economy and society will almost certainly increase, so it is important for the Middle East to be strategically placed in order to provide a springboard for the future.
The most significant relative gains in the region are expected in the UAE where AI is expected to contribute almost 14% of GDP in 2030. This is followed by KSA (12.4%), the GCC4 (Bahrain, Kuwait, Oman and Qatar (8.2%)) and then Egypt (7.7%).
The contribution of AI estimated for Saudi Arabia and the UAE is similar to the contributions estimated for economies in Southern Europe and Developed Asia in our global analysis.
In the UAE, AI is at the forefront of the government's strategic plans, the initiatives to support the development of AI places it in a strong position as one of the leaders for AI in the region, and quite possibly the world. For example, Dubai's strategies include, amongst others: A smart Dubai Strategy, a Dubai 3D Printing Strategy and a Dubai Autonomous Transportation Strategy.
At the sectoral level, the most significant gains in absolute terms are expected in the construction and manufacturing sector. The sector is expected to a account for almost a third of the entire benefits to the region, equivalent to almost USD100bn in 2030. Relative to their size, the retail and wholesale trade sector and the public sector (including health and education) stand to experience the most significant contribution from AI.
Click here to download the full report by PwC Middle East.
GITEX Future Stars is now welcoming all startups to jump on-board at the event's dedicated AI exhibiting zones. It's your moment to shine in front of global VCs, corporate and government buyers and key decision makers.
Believe the hype it's real: Book your pod now