05 May 2019
Russian Startups Examine Growth Opportunities and Advantages in Dubai Market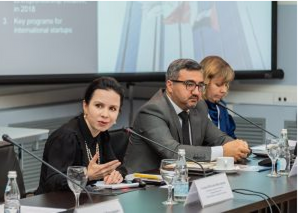 Dubai, UAE: Dubai Startup Hub, an initiative of Dubai Chamber of Commerce and Industry, recently participated in a roundtable in Moscow which familiarised Russian startups with Dubai's entrepreneurial ecosystem and growth opportunities that the emirate offers.
The roundtable, organised by Dubai World Trade Centre and PROFEX, provided valuable insights on Dubai's business environment, fast-growing startup sector, and the various accelerator and incubator programmes, initiatives, services and resources that are available to entrepreneurs in the emirate.
During the roundtable, Natalia Sycheva, Manager of Entrepreneurship for Dubai Chamber, highlighted the wide range of business opportunities available for innovative startups in Dubai, in particular those that specialise in advanced technologies such as artificial intelligence, blockchain, and smart city solutions.
She noted that the UAE has put into place to foster innovation, including its existing strategies focusing specifically on navigating the Fourth Industrial Revolution and adopting artificial intelligence, blockchain and 3D printing, adding that international startups are playing a major role in these growth areas.
Sycheva delivered an informative presentation about the value-added benefits and practical support that Dubai Startup Hub provides to aspiring and established entrepreneurs in Dubai, as well as its programmes, initiatives and events that are designed to provide participants and members with clarity and guidance throughout their entrepreneurial journey.
She outlined the benefits of participating in the Market Access and Co-Founder Dubai, which pair innovative startups with business partners and mentors, and noted that Dubai Startup Hub is seeing growing interest and participation from startups that are based outside of the UAE that are keen to expand their footprint in the Middle East and surrounding markets.
A key focus of the roundtable was GITEX Technology Week, the biggest technology exhibition in the MENA & South Asia region, hosted in Dubai every year. Russian startups were briefed about the advantages and exposure it can offer IT companies and startups that exhibit at the annual event.
In addition, representatives from Russia's Ministry of Economy, Dubai World Trade Centre, Russian Expocentre, Internet Initiatives Development Fund, Russian Center of Digital Innovation & ICT, Russoft Association, and Skolkovo Foundation participated in the discussions held during the roundtable and explored new avenues of cooperation between Russian and UAE startups.