03 Sep 2018
The Dubai Tourism Future of Tourism Challenge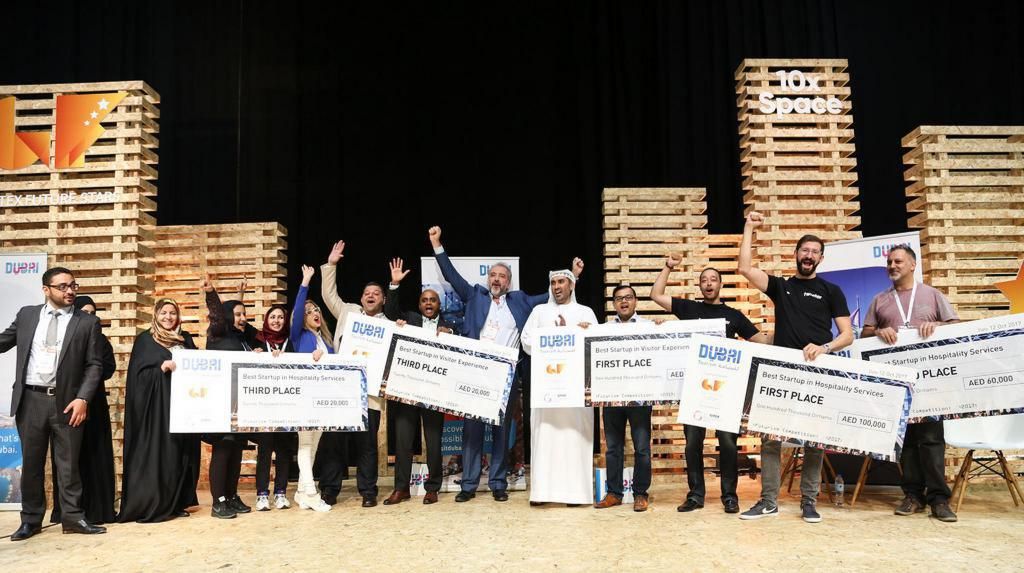 The Department of Tourism and Commerce Marketing (DTCM) is the principal authority for the planning, supervision, development and marketing of tourism in Dubai, and they are looking for new ways to work with startups!
There is a drive for tourism to be a more inclusive experience for visitors; and an increase in tourist attraction openings around Dubai, which presents new opportunities in the complete tourist journey. DTCM is looking for ways to continue supporting growth in the tourism industry, make it easier for tourists to plan their trips, and incorporate new technologies.
To anticipate and accommodate the opportunities and advances in tourism, Dubai Tourism, Emaar Hospitality Group and Atlantis Hotel are launching the Future of Tourism Challenge. This program will activate the startup community and uncover those technologies that will help transform the tourism experience in Dubai.
Twenty applicants will be selected to pitch on stage at GITEX Future Stars, the largest technology event in The Middle East, Africa and South Asia. The winners will be selected to receive a 50,000 AED cash prize and invited to participate in the four week incubator. DTCM and its partners will actively be serving as mentors to teach the startups about their business challenges, identify pilots and investment opportunities. This program will be the perfect opportunity for participants to work on specific challenges, sponsored by corporations, with the potential to have a strategic partnership, pilot or contract with one of the sponsoring corporations.
What is the Futurism Challenge?
Whether your work is in artificial intelligence, digital ecosystems, augmented/virtual reality, or blockchain, this Challenge is an opportunity for you to connect with major players in the Dubai tourism industry who want to know about you. We are looking for contributions from startups in the following areas:
Artificial Intelligence: Startups applying to this challenge should be leveraging machine learning and/or AI based tools to guide visiting tourists through their journey in Dubai including providing itinerary recommendations. Solutions should propose unique applications of AI technologies to provide a novel experience for hotel guests and tourists.
Digital Ecosystem: Startups applying to this challenge should be using technology that can capture guest feedback & testimonials on tourist experiences and suggest/upsell additional on-site activities for guests to share and partake in based on their responses. This technology should include dashboard functionality for reporting and allow the tourism provider to respond accordingly. This can range from leveraging bots for responsiveness to inquiries, new technology for data aggregation of review sites; anything to support the creation of a real time digital reputation barometer. The best responses will include best practice data collection (how it is collected & what is asked) and API connectivity to existing systems.
Sponsored by Atlantis Hotel.
Augmented Reality / Virtual Reality: Startups applying to this challenge should be using AR and VR in ways that can showcase and assist in the visualization of past, present, and future Dubai tourist attractions and sites. Applicants could cover all or specific aspects of the visitor journey to support the guest experience and increase commercial opportunities and attract talent. The best responses will propose unique applications of AR/VR technologies to provide a novel experience for hotel guests and tourists.
Sponsored by Emaar Hospitality Group.
Blockchain: Startups applying to this challenge should be able to incorporate their blockchain technology to the Dubai tourist experience with a particular focus on retail; the end goal being of increasing tourist traffic and making it easier for tourists to shop.
Sponsored by Dubai Tourism.
About the Department of Tourism and Commerce Marketing
With the ultimate vision of positioning Dubai as the world's leading tourism destination and commercial hub, Dubai Tourism's mission is to increase the awareness of Dubai among global audiences and to attract tourists and inward investment into the emirate. Dubai Tourism is the principal authority for the planning, supervision, development and marketing of Dubai's tourism sector. It markets and promotes the Emirate's commerce sector, and is responsible for the licensing and classification of all tourism services, including hotels, tour operators and travel agents. Brands and departments within the Dubai Tourism portfolio include Dubai Business Events, Dubai Calendar, and Dubai Festivals and Retail Establishment.
About Atlantis, The Palm Dubai
Atlantis, The Palm is the first entertainment resort destination in the region and located at the centre of the crescent of The Palm in Dubai. Opened in September 2008, the unique ocean-themed resort features a variety of marine and entertainment attractions, as well as 17 hectares of waterscape amusement at Aquaventure Waterpark, all within a 46 hectare site. It is home to one of the largest open-air marine habitats in the world, with over 65,000 marine animals in lagoons and displays including The Lost Chambers Aquarium, a maze of underwater corridors and passageways providing a journey through ancient Atlantis. Aquaventure features 18 million litres of fresh water used to power thrilling water slides, a 2.3 kilometre river ride with tidal waves and pools, water rapids and white water chargers. Dolphin Bay and Sea Lion Point, the unparalleled conservation and education habitats, were created to provide guests a once in a lifetime opportunity to learn more about two of nature's most graceful mammals. Atlantis, The Palm is also known as the culinary destination in the region with a collection of world-renowned restaurants by Michelin star chefs including Nobu by Nobu Matsuhisa, Ronda Locatelli by Giorgio Locatelli and Bread Street Kitchen & Bar by Gordon Ramsay. The resort also boasts the award winning ShuiQi spa and fitness centre, an impressive collection of luxury boutiques and shops as well as extensive meeting and convention facilities.
About Emaar Hospitality Group
Emaar Hospitality Group LLC is a wholly-owned subsidiary of Emaar Properties PJSC, the Dubai-based global property developer, and manages Emaar's hospitality and leisure projects globally. Defining its competency in managing mixed-use property developments, Emaar Hospitality Group owns and manages a diversified portfolio of assets including hotels, serviced residences, golf clubs, polo club, marina and lifestyle dining restaurants.
Emaar Hospitality Group has defined its credentials in the hotel industry with the launch of three brands, each with a distinct niche – Address Hotels + Resorts, Vida Hotels and Resorts and Rove Hotels. Address Hotels + Resorts has brought a fresh identity to the global hospitality and service sector by setting new benchmarks with its gracious hospitality and exceptional service standards. Address offers a more personal and engaging experience to guests in a premium lifestyle environment, enriching the lives of its guests with luxury, style and elegance. Address Hotels + Resorts is set to operate hotels and serviced residences in Saudi Arabia, Egypt, Turkey, Bahrain, Maldives and other key markets in the region as well as in the UAE.
An upscale lifestyle hotel and residences brand, Vida Hotels and Resorts is for the new generation of business executives, entrepreneurs and leisure travellers. Positioned as a lively and vibrant hub where inspiring minds can create, connect and come alive, Vida hotels are a stimulating environment where style meets convenience and interactivity. Vida Hotels and Resorts has two properties in Dubai and is set to operate hotels and serviced residences in Abu Dhabi, Sharjah, Bahrain, Saudi Arabia and Egypt, and other key markets in the region as well as in Dubai.
A contemporary midscale hotel brand that reflects the pulse of Dubai, Rove Hotels is a joint venture between Meraas and Emaar Properties PJSC. Designed for the new generation traveller and highly mobile socially connected global nomads who recognise value, stays connected through technology and gravitate towards culturally-inspired surroundings, Rove Hotels are reliable, modern, fuss-free and super-efficient. Rove Hotels has five properties in well-connected locations across Dubai and is set to operate further properties in the city. The leisure assets of Emaar Hospitality Group include Arabian Ranches Golf Club, Dubai Polo & Equestrian Club and Dubai Marina Yacht Club.
Requirements
Your startup must be a for-profit business.
Your business must be a scalable product or service and in-market (MVP or pilots are fine but must fundamentally be beyond "idea stage").
Your startup must have at least two team members.
Your startup's product or service should be possible to implement in Dubai from a technical and legal standpoint.
Your startup must be willing to implement your product or service in Dubai.
Benefits of Competing
Finalists

Competing startups will receive pitch training by mentors and experts in Dubai.
Competing startups will pitch at GITEX Future Stars event during the week of October 15th - October 18th, 2018.
Travel and accommodations will be covered exclusively by DTCM. This includes Economy class tickets and 4-star hotel reservations.

Winners:

Each of the four winner will be awarded an AED 50,000 cheque.
Each of the four winners will be invited to participate in a four week innovation lab to work closely with DTCM, Emaar Hospitality Group and Atlantis Hotel.
The Competition Process
DTCM, Emaar Hospitality Group, Atlantis Hotel and Union will be selecting the competing startups for the Future of Tourism Challenge:
All companies must submit an application through the Future of Tourism Challenge website by September 20th, 2018.
20 startups will be selected as competing startups for the Future of Tourism Challenge. The selected startups will compete at the GITEX Future Stars event in Dubai on October 15th - 18th, 2018.
A panel of judges will select four startups, one from each challenge, as winners of the Future of Tourism Challenge to participate in the incubation program and receive an AED 50,000 cheque.
Judging Criteria
Judges will evaluate startups based on the following criteria:
Size of market opportunity.
The extent to which the product solves a problem for a particular target industry.
A clear and strong market rollout plan.
Traction (customers, revenue, users, etc.).
The extent to which the product increases efficiency and cost savings, and can be implemented effectively.
A clear revenue model.
A motivated and skilled team.
Presentation skills.
Competition Timeline
August 15: Future of Tourism Challenge Launch & Application opens.
September 20: Application Close.
September 28: Selected competing startups are notified and announced.
October 13: Competing startups arrive in Dubai.
October 13: Pitch training.
October 15: GITEX Future Stars.
October 22: Incubation Program begins.
Want to know more about the program? Read the Futurism Challenge FAQ here