08 Dec 2018
Why the UAE is a place for new technology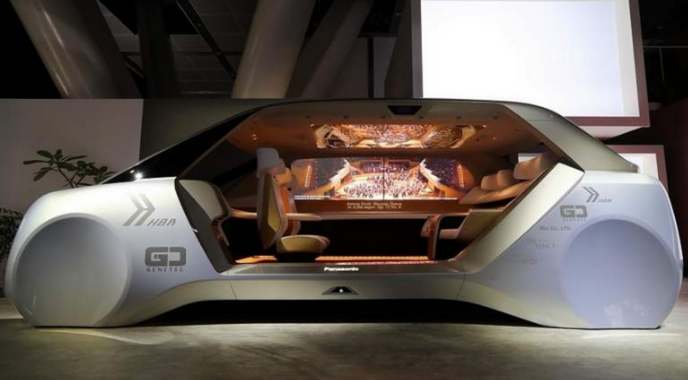 The multinational electronics company lining up many projects that can contribute to fast-progressing nation.
Japan-based multinational electronics company Panasonic recently revealed a series of innovative concepts for the next 100 years, some that could hold immense potential to assist the UAE on its march towards an integrated smart nation.
Anthony Peter, director of Panasonic Marketing Middle East and Africa's corporate communications and operations division, said that the organisation is already involved in various projects, notably in Dubai.
"The UAE is a very fast-progressing country, and we are looking forward to our contribution wherever it is feasible in the upcoming Expo 2020. There are many things in the pipeline, which I am unable to share at the moment, but we are involved in a number of projects. An example of our achievement is the largest aqua laser projection on a hotel facade in Dubai Festival City, a feat that was added to Guinness Book of World Records."
At the recent Cross-Value Innovation Forum in Tokyo hosted as part of the company's 100th-year anniversary, Panasonic Corporation president Kazuhiro Tsuga shared the firm's ambitions to transform from a renowned household brand to an ambassador of future technology, where its products and services aim to evolve according to their lifestyle needs.
The exclusive showcase introduced several projects that could serve as lifestyle solutions, support sustainable communities, and create mobility, alongside automation innovation in the manufacturing industry and enhanced corporate citizenship activities as part of the brand's Environment Vision 2050.
"On the occasion of this centennial, I want to convey Panasonic's renewed resolve and our strong wish to work together to enrich people's lives and the society that they live in," Tsuga added.
Bullish on Middle East
Panasonic has held a strong presence in the Middle East for over 60 years and considers it an important market. Despite the recent recession, Anthony Peter shared that the region remains bullish and the brand is currently setting its focus on the B2B landscape, where it aims to integrate digitisation and innovation in several industries, notably in the retail, hospitality and leisure sectors. He added that the brand recorded a double-digit growth in the GCC market last year and is marching towards a positive impact by the fourth quarter of its fiscal year 2018 and ahead.
"Panasonic is founded on the DNA of innovation and quality, upon which it has built a legacy of trust. In the speech, our company president had quoted founder Konosuke Matsushita's beautiful message: 'People before products'. And that's what Panasonic continues to follow," he concluded.
The good stuff
Some Panasonic's concepts showcased at its Cross-Value Innovation Forum were:
SPACe_L (Mobility Living): A seated mobile facility that features state-of-the-art screens, lighting and acoustics that open up interactive opportunities for professional and personal uses.
HomeX (IoT housing): The information infratructure is embedded in homes with features that empathetise with the needs of its residents. It creates a convenient living space with integrated functions, giving families a chance to treasure quality time together.
Sustainable smart towns: Transforming the social sphere of communities, the smart town concept by Panasonic Homes, the group's residential developer, is currently under works in partnership with local governments of Fujisawa (Kanagawa) and Tsunashima (Yokohama) to create a self-sufficient environment with opportunities for residents to create value-added services.
Human sensing: An AI device that identifies individuals, analyses their health stats (from heart rate to blood pressure), and displays it in the form of a physical mirror, adding a renewed sense of well-being.
Walking training robot: Aimed at an ageing society as well as for those under rehabilitation, the AI device is optimised to assist in walking and provides a unique personalised experience per user.
Integrated sports experience: With projection mapping and live tracking, audiences can enjoy a whole new visual experience at sports events. The technology can analyse and display athletes' form and health as they play, and transmit to multiple real-time feeds to smart devices to create a revolutionised spectator experience.
RRODUCE, Trackless autonomous mobility, Data-driven store management, etc: These projects are among many that are designed to integrate automation in the country's manufacturing, logistics and distribution industries. The solution, which is an initiative of the Gemba Process Innovation, hopes to ease labour-intensive processes and respond to the shortage in Japan's labour supply. It aims for optimised models and continuous improvement for enhanced processes and reduced waste.
See-through Translator: Breaking communication barriers, the concept is part of Panasonic's City Activation solutions that offers face-to-face multi-lingual conversation. The translated text is read aloud and displayed on a transparent screen in front of the user.