DATACENTER IN A BOX (DIAB)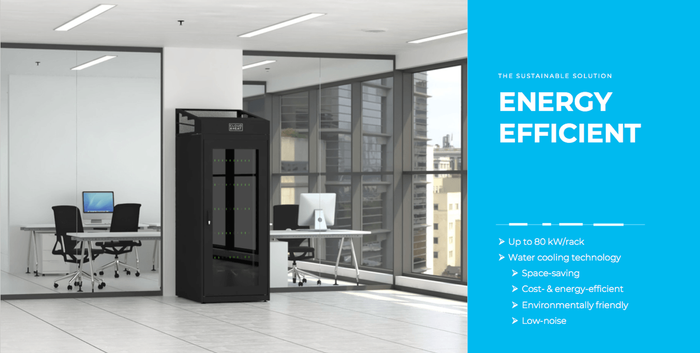 With our market approved DiaB, we offer a comprehensive solution for IT environments with a high demand for security, low operation cost and flexibility. We focus on full control, protection from unauthorized backdoor communication and in house operation without subcontractors. Also, the DiaB provides you with the highest energy efficiency of its class and PUE 3 values as low as 1,02. About 30 % operational cost savings are made possible through our field tested and certified direct hot water cooling technology - compared to a conventionally air cooled server system.
In addition to a turn key ready server solution, we support during the planning, construc- tion and operation of your IT infrastructure. Cloud&Heat represents modern data center design, high reliability and long term partnerships. You benefit from having one partner for the entire data center life cycle and our experience with various partners with different.
Security
Full control of assembly and software selection. Security hardened software stack based on Open Source. Automated server virtualization for instant patch distribution. Security-optimized network design. Certified processes for full data security. Longterm operation contracts.
Energy Efficiency
Highest energy efficiency in its class. Reducing operating costs by about 30%. Optional waste heat reuse. PUE up to1,02. Minimal need for air conditioning. Award Winning Green-IT concept.
Flexibility
Modular hardware basis.Flexible composition of CPU-, GPU- and Storage-Servers. Standardize dracks compatible with market leading manufacturers suchas Intel, Nvidia, STULZ, Cisco, Alcatel Lucent. Extremely quiet and reduced space demand, therefore deployable anywhere from office spaces to data center containers.