EnCloudEn Hyper Converged Infrastructure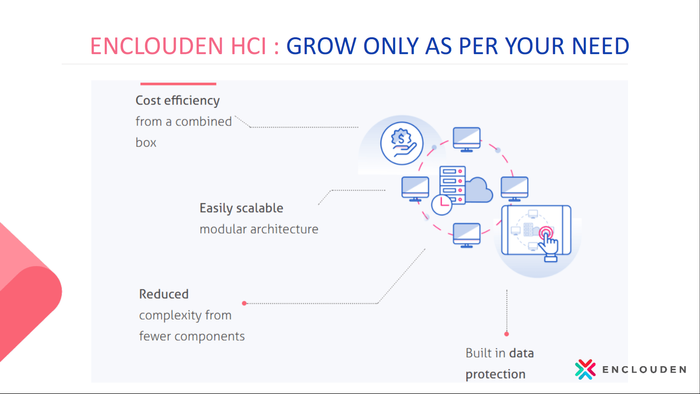 Why ECN HCI?

ECN HCI combines your compute and storage needs into a single box to give you a modular and scalable design. It is a native hyper-converged stack that vertically integrates with the ECN Private Cloud or VDI solutions to give your applications and desktops the best speed and access to its data with minimal overheads. What you get at the end of the day is the flexibility of growing your deployment in tandem with your business needs along with the assurance of guaranteed performance.
ECN HCI gives you a hyper-converged storage platform that completely liberates you from the need to plan ahead. You can now re-imagine onpremises storage also as a grow only as per your need model. You can now start from only 3 nodes with no restrictions on the size of each node. And you have full control on your growth trajectory with the freedom to add nodes, jbods or simply larger individual disks as per your exact needs.
COMMODITY HARDWARE
ECN HCI is a complete hardware agnostic solution. The software platform can convert any commodity server to an HCI box. You can also reuse your existing hardware.
COMPLETE CLOUD PLATFORM
Move beyond just in-built hypervisor in your HCI box. With ECN HCI, you have the benefits of a comprehensive native cloud with all of orchestration, monitoring and networking.
PACKING ADVANTAGE
You can now custom build your HCI storage. Depending on your application and consumptions, we design a perfect ratio and size of SSDs and HDDs to maximize your VM packing per node with custom
processors.