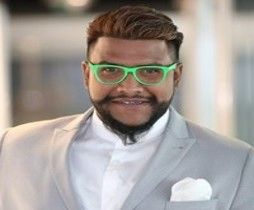 Hameed Yousuf
Digital Media Evangelist
,
@HamiVlogs
United Arab Emirates
One of the early proponents and advocates of social media licensing in the region
Biography
With 13+ years of experience in digital marketing, Hameed Yousuf is a certified professional and currently consults brands, high profile individuals and the government on their digital footprint, including social media and content management.
He was selected to join the Youth Media Council, under the National Media Council and has managed successful initiatives for the government of the UAE and India - Expo 2020, #happydubai, hamdan.ae, Arab Media Forum, Smart Majlis and International Yoga Day are some of the initiatives.
He lectures online at Hami Academy and is an adjunct lecturer in universities on digital marketing and social media, writes articles for prominent digital news websites and mentors influencers and start ups in the region.
He is also known as Hami Vlogs on TV, social media and vlogs about tech, cars, gadgets, people's failures and CSR activities. He has also founded start ups and currently working on a platform to train young content creators. He was recognised among the 'Top Young Media Talents' in the region under 30 in 2016 and 2018 by Campaign ME and recently selected as the Pioneer UAE Ambassador for Digital Innovation, Technology and Media for the Middle East Youth Expo 2020.
Hameed currently holds the title of 'Most influential global youth marketing professional of 2019' as a result of advocating youth to collaborate and was recently invited to by the BETT MEA Show to join the Middle East and Africa Advisory Board.